BIO
Paolino Canzoneri is an italian artist. Since 2009 he has been releasing singles and digital albums of minimal experimental electronic music with the help of samples, loops and a taste for the interpretation of Krautrock's Central European history, releasing digital solo album and with different active music projects: Nesting Error, Mantra Regula, Urbis Nulla but without a precise and periodic publication.

He created and managed with the collaboration of Luigi Cilento two online labels (netlabel) using Creative Commons copyleft license: Nostress Netlabel founded in 2011 and Batenim Netlabel founded in 2013 releasing digital albums for free download by artists from around the world including digital annual compilations and entire digital recordings of concerts in Italy and abroad.

Although aware of a growing obsolescence worldwide of the phenomenon of netlabels, decides equally for pure passion to produce albums in CD format in limited editions available only after donation to be integrated with personal investments that allow him to get in direct contact with the artists organizing sometimes small live concerts and events in Palermo and beyond. It should be remembered the participation of artists not only from the Italian territory also from Russia, Albania, France etc. and to participate as partner label in various cultural and musical initiatives. In 2016, with his first approaches to modular synthesis, he produced and released an album together with the international pioneer of the industrial music genre Maurizio Bianchi M/B receiving great interest and appreciation with reviews on some italian music magazines.

In 2021, believing to have definitively finished the period and interest in netlabels, commissioned the artist Nicola Manzan an effective and complex work of re-mastering new reissues for his previous albums exclusively in digital format, marking the final transition to a new phase while maintaining a reserved profile.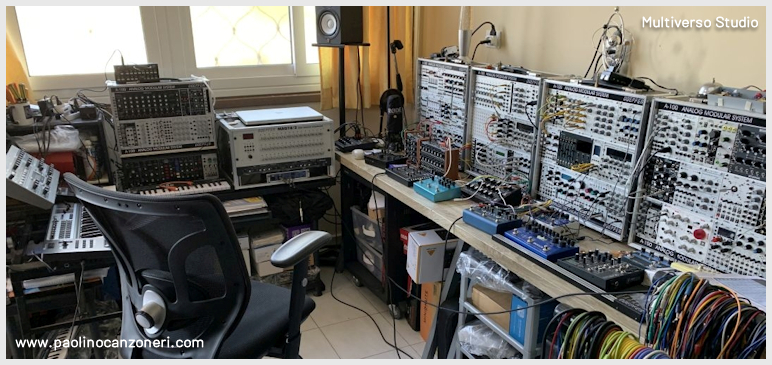 He definitely increases the interest for modular synthesizers and renews his studio always called "Multiverso" (as the title of his first solo CD)with new instrumentation and several new euroracks system followed by an intense and complex indoctrination that will lead him to the release of the album in digital format and CD "Il cielo incupisce", published by the record company Seahorse Recordings, that marks a change of pace and a clear distance from previous works. Reviews on webzine appear enthusiastic.

Now his music consists in creating musical journeys that massage the body and soul in an experimental and minimal direction. Each element is chosen to relax the listener by stimulating a hypnotic, cathartic, peaceful mood in order to further accentuate a feeling of disconnection with reality. Warm, deep sounds and nebulous elements contrast with pure sounds and coexist together with dilated and infinite sounds that fill intermediate spaces.